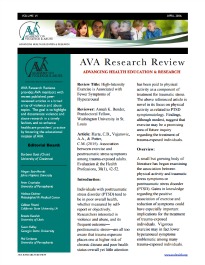 REVIEW TITLE: High-Intensity Exercise is Associated with Fewer Symptoms of Hyperarousal
REVIEWER: Annah, K. Bender, Postdoctoral Fellow, Washington University in St. Louis
ARTICLE: Harte, C.B., Vujanovic, A.A., & Potter, C.M. (2015). Association between exercise and posttraumatic stress symptoms among trauma-exposed adults. Evaluation & the Health Professions, 38 (1), 42-52.
INTRODUCTORY COMMENT:
Individuals with posttraumatic stress disorder (PTSD) tend to be in poor overall health, whether measured by self-report or objectively. Researchers interested in violence and abuse, and its frequent outcome—posttraumatic stress—are all too aware that trauma exposure places one at higher risk of chronic disease and poor health status overall, yet little attention has been paid to physical activity as a component of treatment for traumatic stress. Read more...