Emmanuel Peña, DO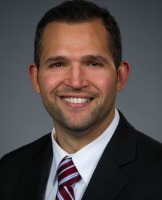 Emmanuel Peña, D.O, MA is a Child Abuse Pediatrics fellow at the University of Florida-Jacksonville campus. He was born in the Dominican Republic, and raised in New York City. He completed his undergraduate, and graduate studies in Cell-Molecular Biology at the State University of New York at New Paltz. He held an adjunct faculty role there prior to transitioning to a clinical research position with the Pediatric Emergency Care Applied Research Network (PECARN) at Columbia University-New York Presbyterian Hospital.
Dr. Peña's major interest involve resident education, and received multiple teaching awards throughout his residency training. He is one of the co-founders of PEMfellows.com, and is currently building an internet-based source for resident training on screening and prevention of child neglect.
His research interests include epigenetics and its effects on the immune system, development delays as a marker for child neglect, and the role of the medical home model on the prevention of child maltreatment.