Agnes Tiwari, RN, PhD, FAAN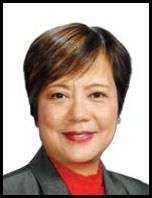 Dr. Agnes Tiwari is a nurse with extensive experience in clinical practice, administration, education and research.
She received her nursing education in the United Kingdom where she continued her career as a practicing nurse, educator and administrator for 24 years. She returned to her native Hong Kong in 1993. Currently, she is professor and head of the School of Nursing at the Li Ka Shing Faculty of Medicine of the University of Hong Kong.
Prevention of family violence is the focus of her practice, research, teaching and advocacy work. As the first nurse to gain access to shelters for abused women in Hong Kong, she had to convince the women and their case workers that abused women could be better served through the collaboration of health and social work professionals. Over the years, she has gained the trust of the women and staff at the shelters. She now conducts weekly sessions in different shelters in Hong Kong with the aim of empowering survivors in preventing further violence and reducing the effects of partner violence on the women's health.
Recognizing the need for primary prevention of violence in the community, she has collaborated with professionals in primary care and community settings to provide education and support to parents and expectant couples for the promotion of harmonious family relationships. She has received grants and awards for her research and service projects, and published extensively on violence prevention and intervention. She has also initiated the first graduate-level course on Health Care for Survivors of Family Violence for practicing nurses and an undergraduate-level course on Prevention of Family Violence for university students in Hong Kong.
In recognition of her contributions to research and education on violence prevention, she was selected as a Fellow of the American Academy of Nursing in 2010 and awarded the Women of Influence 2011 by the American Chamber of Commerce in Hong Kong.