Megan Gerber, MD, MPH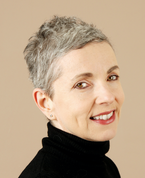 Megan Gerber, MD, MPH is a general internist and medical educator with a career-long focus on the medical care of trauma-exposed women. She is Associate Professor of Medicine at Boston University and Medical Director of Women's Health at Veterans Affairs (VA) Boston Healthcare System. Since joining VA in 2008, Dr. Gerber has held local, regional and national leadership roles focused on promoting comprehensive health for women Veterans. Dr. Gerber's scholarly work has focused on addressing intimate partner violence in primary care, optimizing medical outcomes for women who have experienced trauma as well as adapting systems of care to be trauma-informed and sensitive to the needs of survivors.
In 2012, Dr. Gerber co-chaired the national task force convened by VA to address intimate partner violence across the nation's largest integrated healthcare system. In this role, she oversaw development of the original memorandum that led to development of the current national Intimate Partner Violence Assistance Program (VA IPVAP).  Dr. Gerber has developed trainings on intimate partner violence and trauma-informed care for VA clinicians. She currently serves as a Steering Committee member for National Collaborative on Trauma-Informed Healthcare Education and Research (TIHCER), an AVA affinity group. Dr. Gerber has authored multiple peer reviewed publications on intimate partner violence and women's health and is the editor of the recently-published textbook, "Trauma-informed Healthcare Approaches: A Guide for Primary Care. (Springer 2019).
Email address: meggerber@post.harvard.edu 
Website: https://www.bumc.bu.edu/busm/profile/megan-gerber/
Book website https://www.springer.com/us/book/9783030043414
Book summary:
As the recent #METOO movement has demonstrated, interpersonal trauma is widespread. A growing literature has demonstrated the impact of traumatic experiences on mental, physical health and wellbeing.  Trauma survivors commonly access healthcare but their histories and needs are commonly misunderstood or misinterpreted. Trauma-informed care is an approach that creates a welcoming and safe care environment for all.  'Trauma-informed Healthcare Approaches' provides a detailed and practical "hands on" guide to trauma-informed care. Chapters provide guidance to both frontline clinicians and healthcare administrators on actionable strategies for adopting, implementing and sustaining principles of trauma-informed care. The book begins with a broad overview of the prevalence and types of traumatic exposures, this is followed by a broad and innovative framework ('the 4 Cs') that facilitates care transformation at the level of the patient encounter and beyond. Next, we review strategies to serve high risk populations, including sexual and gender minority persons, Black men, immigrants and Veterans.
Chapters on holistic nursing care of adult patients, trauma-informed primary and maternity care are included as well as a chapter on the importance of addressing trauma exposure early in care settings that serve children, adolescents and their families. Finally caring for trauma-exposed patients can place a strain on clinicians and staff, approaches for fostering resilience and promoting wellness in the healthcare workforce are presented. Practical case discussions, toolkits and resources are shared throughout the book.  Written by experts in the field, 'Trauma-Informed Healthcare Approaches' is the definitive resource for improving quality care for patients who have experienced trauma.