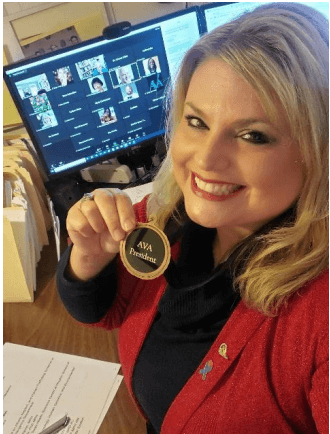 Happy New Year! I wish you and your loved ones a healthy and joyful start to 2023.  As we look to the year ahead, it's clear there is much work to do. 
This year, we will empower and cultivate an active membership dedicated to the mission to bring more resources to all people and communities challenged by violence and abuse.
It's an honor to do this work alongside our dedicated partners and supporters. On behalf of the AVA, thank you for being a member of our community.
According to the Human Rights Campaign Foundation, 2022 was an Epidemic of Fatal Violence for transgender and gender non-conforming people, which Jay Brown, the Senior Vice President of Programs, Research and Training for the Human Rights Campaign Foundation, says, "is a tragic result of society that devalues lives. This is further confirmed with the anti-transgendered lawmakers passing a record number of discriminatory bills including bans of lifesaving, medically necessary gender-affirming healthcare." 
Chris Simkins, a video journalist with the Voice of America writes: 
"The U.S. experienced more than 600 mass shootings in 2022, nearly double the number recorded four years ago when there were 336, according to Washington-based Gun Violence Archive.
Analysts see a link between bias-motivated gun violence and a rise in hate groups and toxic discourse in the United States targeting vulnerable, often marginalized populations."
"One of the problems with seeing gun violence in the context of hate crimes is that the trauma isn't just to the individual; the trauma is to that community," said Professor Carlos Cuevas, co-director of the Center on Crime, Race and Justice at Northeastern University. "It is a crime against a person, but it is also a crime against a group."
"While mass shootings grab news headlines, they account for a small percentage of the more than 40,000 U.S. gun deaths recorded in 2022. Half were by suicide, according to Gun Violence Archive."
"One of the positive things in all of this is that mass shooting events are the most visible but the least frequently occurring ones," Cuevas noted. "It's important to provide continuing support to communities and help them recover a sense of safety that will help them heal from these events going forward."
 "Our sense of security is permanently ruptured," said Dr. Emily Lieberman, a pediatrician who witnessed a mass shooting with her children. She and a group of fellow doctors traveled to Washington in December to urge lawmakers to pass a ban on assault weapons.
"As mass shootings continue to rise year after year, I realize that complacency is just as dangerous as these attacks themselves," she said. "The time is now to save lives."
This increased violence has led the AVA Board of Directors to publish position statements on gender affirming care for children and adolescents, a statement on immigrant children and one on gun violence. Naming the issue and calling it out is only the first step in creating a strategy to help reduce the chronic effect of violence and abuse on the collective. 
Even with all of the national press on violence, home is still the most violent place in America. According to the National Coalition Against Domestic Violence, "On average 20 people per minute are physically abused by an intimate partner. This is an astounding number that shows just how prevalent this is in our society. A weapon is used in 19% of domestic violence incidents. Women who are victims of intimate partner violence are most likely to be between the ages of 18 to 24."
"Domestic violence is an epidemic, no matter what statistic you look at, yet as a society we often close our eyes to it," Amy Sanchez, director of Break The Cycle, an organization on the NO MORE steering committee, tells Good Housekeeping.
This plague perpetuates itself. Each year, up to 10 million children are exposed to domestic violence — which the Centers for Disease Control and Prevention has declared a "serious, preventable public health problem" — according to The Center for Women and Families. And of the kids who are exposed to it, a heartbreaking 90% are eyewitnesses, who will feel the effect of it for their entire lives.
The key, Sanchez adds, is changing people's attitudes: "People need to understand that it is everybody's business — not just that of the cops, the judges alone. We all have an obligation to take this on." Pointing to the shifts that she says our culture has seen towards smoking and recycling in recent decades, "Thirty years ago, it was culturally appropriate to smoke wherever you were, at home, on the job," explains Sanchez. "Now, it's against the law and it's culturally inappropriate. We shifted norms and behaviors. It's the same thing with recycling. Growing up, I remember we didn't think twice about throwing garbage out the window of a moving car on the highway. Today we've changed our behavior, our values, and people recycle. That's what we're trying to change now with respect to domestic violence. We know how to do this."
It is commonly accepted that domestic violence not only affects those who are abused, but also has a substantial effect on family members, friends, co-workers, other witnesses and the community at large. Children who grow up witnessing domestic violence are among those seriously affected by this crime. Frequent exposure to violence in the home not only predisposed children to numerous social and physical problems, but also teaches them that violence is a normal way of life and increases the risk of the becoming the next generation of victims and abusers. 
But a new year is also filled with hope and opportunity. The Academy on Violence and Abuse begins 2023 with renewed determination and focus as we work to transform health and well-being through gold-standard care, advocacy, professional development, education, and scientific discovery.
AVA has been very active this year in creating small ripples in a pond that will lead to bigger changes that move us forward in our mission.