2023 Chadwick Hybrid Pre-Con
This form is currently unavailable. Try again later.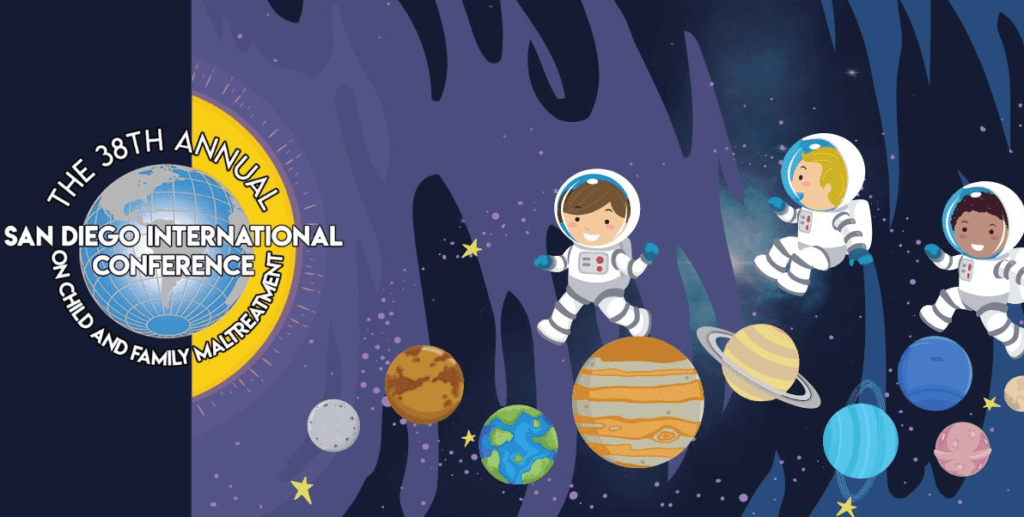 AVA Preconference
ACEs Update: Screening, Case Finding, and Sensitive Inquiry
San Diego Child and Family Maltreatment Conference
Sunday – January 22, 2022
8 am to 4:30 pm
8:00 am to 8:15 am – Introduction to Precon, Welcome to presenters and participants – Dave Corwin, MD
1. 8:15 am to 8:30 am - Brooks Keeshin, MD – AVA Board Member, Associate Professor, Univ. of Utah. "Developing and disseminating evidence-based trauma symptom screening for primary pediatric healthcare"
2. 8:30 am to 8:45 am - R. J. Gillespie, MD, MHPE – The Children's Clinic, Portland Oregon. Awarded 2022 AVA Change Maker Award. "Screening for ACEs, resilience, and positive childhood experiences in parents of newborns"
3. 8:45 am to 9:00 am - Audrey Stillerman, MD, The Center for Collaborative Study of Trauma, Health Equity and Neurology, Chicago, Illinois. Co-author of recent article in JCPM and position statement on screening for ACEs. "Introducing the American College of Preventive Medicine's Recommendations on Population-Based Applications of the ACE Study"
9:00 to 9:15 am - Discussion
4. 9:15 to 9:30 am - Ginger Meyer, MSW, LCSW, CCTP, AVA President and Clinical Director for Children's Medical and Mental Health Resource Network a program of SIU School of Medicine. "Screening for trauma responsive schools implementation"
5. 9:30 am to 9:45 am - Dhrubodhi Mukherjee, PhD, LCSW and Megan Ragan, MSW, LSW see https://hps.unt.edu/dhrubodhi-mukherjee-phd-lcsw. Megan is a Licensed Social Worker and Data Coordinator, Sustainability Planner and Trauma Therapist. "Screening for ACEs in Parental Substance Use in Rural Primary Care"
9:45 am to 10:00 am – Break
6. 10:00 am to 10:15 am - Jeoffry Gordon, MD, MPH – Retired family physician with over 40 years of experience in private practice. ACEs, CM prevention, child death review, and children's mental health advocate. "Managing a patient whose screening reveals multiple ACEs in the busy clinic - Who "you gonna call"? Will there be someone there?"
10:15 am – 10:30 am - Discussion
7. 10:30 am – 10:45 am - Machelle Madsen, PhD, LCSW – AVA Board Member, Research and teaching faculty member in Florida State University School of Social Work. "Screening for resilience"
8. 10:45 am – 11:00 am - Jane Stevens, science journalist, Founder and Publisher of PACEs Connection. "How PACEs Connection can help develop awareness and practice addressing PACES"
9. 11:00 am – 11:15 - Tasneem Ismailji, MD, MPH – Retired Kaiser Pediatrician, co-founder of AVA, former AVA President, developer, and leader of ACEs Health Champions Network. "How the ACEs Health Champions Network can assist the development of improved approaches for screening, case finding, and sensitive inquiry"
11:15 am – 11:30 am – Discussion
10. 11:30 am – 11:45 am - Ariane Marie Mitchel, MD, PhD, MPH -"Developing improved methods for ACEs screening, case finding, and sensitive inquiry"
11. 11:45 am – 12:00 am - Susie Wiet, MD – Child, Adolescent, Adult and Addiction Psychiatrist who developed the Trauma Resilience Collaborative in Salt Lake City and the Health Resilience Stress Questionnaire (HRSQ), an open access online screening questionnaire for healthcare providers. AVA Board Member. "Update on Health Resilience Stress Questionnaire (HRSQ)"
12:00 am – 1:00 pm – Lunch Break
12. 1:00 pm – 1:15 pm - Kelly C. Young-Wolff, PhD, MPH and Carey Watson, MD, FACOG – Dr. Young-Wolff is a clinical psychologist and research scientist with the Kaiser Permanente Northern California Division of Research and Dr. Watson is an Obstetrician /Gynecologist at Kaiser Antioch Medical Center. Drs. Young-Wolff and Watson are researching ACEs screening in pregnant women. "Feasibility and Acceptability of Screening for Adverse Childhood Experiences During Standard Prenatal Visits"
1:15 pm – 1:30 pm – Discussion
13. 1:30 pm – 1:45 pm - Randell Alexander, MD, PhD – "A Child Abuse Pediatrician's Perspectives on Screening, Case Finding, and Sensitive Inquiry."
14. 1:45 pm- 2:00 pm - Omoniyi Omotoso, MD, MPH is a pediatrician at LifeLong William Jenkins Health Center in Richmond, CA who participated in an ACEs Aware Learning Collaborative in northern California. "A Primary Care Pediatrician's Perspectives and Thoughts about Screening for ACEs in Primary Care Pediatrics: Lessons Learned"
15. 2:00 pm – 2:15 pm - Suzanne Frank, MD – Retired Kaiser Pediatrician, now Supervising Pediatrician at School Health Clinics of Santa Clara County. "Screening for ACEs/SDOH, mental health symptoms, and PCEs in an integrated primary care and behavioral health clinic"
2:15 pm – 2:30 pm - Discussion
16. 2:30 pm – 2:45 pm - Robert Sege, MD, PhD is a child abuse pediatrician and developer of HOPE focusing on positive childhood experiences as a protective factor. Wendy Pavlovich, MD, MHS, practicing pediatrician in San Diego and HOPE trained in Boston will be the discussant. "HOPE - Integration of Positive Childhood Experiences into ACEs and resilience awareness"
2:45 pm – 3:00 pm - Break
17. 3:00 pm – 3:15 pm - Video recorded Interview between Christopher Stewart, MD, Child Abuse Pediatrician at Stanford and UCSF and Edward Machtinger, MD, Co-Director of UCAAN
18. 3:15 pm – 3:45 pm - Vincent Felitti, MD – Co-Investigator ACE Study – "How we responded to patients who reported ACEs and comments on day's presentations"
3:45 pm – 4:30 pm - Discussion
Town and Country San Diego
500 Hotel Circle N.
San Diego, CA 92108