Barbara Knox, MD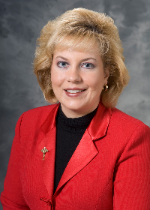 Dr. Barbara Knox is the Medical Director of the University of Wisconsin Child Protection Program at the American Family Children's Hospital in Madison, Wisconsin.
Dr. Knox completed her residency at the Mayo Clinic in Rochester, Minnesota.  She then completed a fellowship in Child Abuse Pediatrics at Cincinnati Children's Hospital Medical Center before joining the faculty in the Department of Pediatrics at the University of Wisconsin, where she is currently a Professor and Chief of the Division of Child Abuse Pediatrics.  Dr. Knox is board certified in General Pediatrics and Child Abuse Pediatrics.
Dr. Knox is Chair of the Wisconsin Chapter of the American Academy of Pediatric Section on Child Abuse and Neglect and is a member of the Ray E. Helfer Society of Child Abuse Physicians.  She is the Past Chair of the Wisconsin Child Abuse and Neglect Prevention Board that administers the Wisconsin Children's Trust Fund.  She co-directs a statewide Medical Peer Review project in Wisconsin.  She currently serves as a Member-at-Large for the Ray E. Helfer Society of Child Abuse Pediatricians Executive Committee.  Dr. Knox also consults for the FBI's Behavioral Analysis Unit III specializing in Crimes Against Children based in Quantico, Virginia.
Areas of research interest for Dr. Knox include child physical/psychological torture as a form of child abuse and sexual torture as a form of child abuse.
Dr. Knox has published on many topics, including child torture as a form of child abuse, burns of abuse, abusive head trauma, and is currently an editor for the book The Investigation, Diagnosis and Prosecution of Child Torture.  She also reviews current child abuse medical research journal articles for The Quarterly Update and is an associate editor for the Journal of Child and Adolescent Trauma.
As part of her practice she cares for children who have been or are suspected of being victims of physical abuse, sexual abuse, medical child abuse, and neglect.