Richard D. Krugman, MD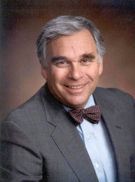 Richard Krugman is the first Vice Chancellor for Health Affairs for the University of Colorado Denver. In this role, he supports the deans of the Schools of Dental Medicine, Pharmacy and Public Health, the College of Nursing and the Graduate School for the Health Sciences. He oversees all clinical programs of the university at its five affiliated hospitals; the Center on Aging, the Center of Bioethics and Humanities, the Colorado Area Health Education (AHEC) system and Risk Management also report to him. Dr. Krugman became Dean of the UC Denver School of Medicine in March 1992, after serving as acting dean for 20 months.
Dr. Krugman is a graduate of Princeton University and earned his medical degree at New York University School of Medicine. A board-certified pediatrician, he did his internship and residency in pediatrics at the University of Colorado Denver School of Medicine. Dr. Krugman joined the UC Denver faculty in 1973.