Ginger Meyer, MSW, LCSW, CCTP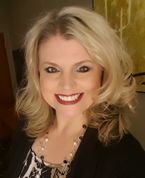 Ginger Meyer is the Clinical Director for Children's Medical and Mental Health Resource Network a program of SIU School of Medicine. She has worked with children and child welfare issues for over twenty years. She has been a leader in the Southern Illinois community in developing a Children's Mental Health Network to increase the professional development opportunities for professionals who work with traumatized children and their families.
Ginger Meyer has been the Lead Trainer and Co-Director of the Trauma Based Behavioral Health Fellowship Program at Southern Illinois University School of Social Work since 2014.  The program was recently refunded and expanded and Ms. Meyer now serves as the Principle Investigator and Project Director of the Trauma Based Behavioral Health Fellowship; A Behavioral Health and Workforce Education and Training Grant (BHWET) HRSA 2017-2021.  This program has trained nearly a hundred advanced social work graduate students in evidence-based trauma treatment, with each cohort receiving several weeks of training with professional community trainers over two semesters. 
Currently, she oversees the psychosocial assessments and crisis counseling in the Southern Illinois region for children facing child maltreatment, including physical and sexual abuse and exposure to domestic violence. She is also the Project Director of the Garett Lee Smith Suicide Prevention Grant SAMHSA 2016-2019, a program that seeks to increase awareness of suicide prevention on the campus at Southern Illinois University Carbondale. She has a small private practice where she provides trauma interventions to children, youth, young adults, and their families.
Ms. Meyer was instrumental in bringing the funding to southern Illinois in partnership with the University of Illinois Springfield for the Child Protection Training Academy and will serve as the director. She envisions a training complex to serve as a multidisciplinary training academy with both didactic and experiential training capacity through a simulation lab, integrating all professionals involved in child welfare.
She is a graduate of SIU with a Master of Social Work and is a Licensed Clinical Social Worker. She is a Certified Clinical Trauma Professional and a member of the International Association of Trauma Professionals.  Ms. Meyer is a trained forensic interviewer and is a Nationally Certified TF CBT clinician.  She is a member of the Academy on Violence and Abuse (AVA) and the American Professional Society on The Abuse of Children. (APSAC)  Ms. Meyer is most proud of her family consisting of a wonderful supportive husband and two young children, who constantly show her love and grace.