UnSun Chung, MD, PhD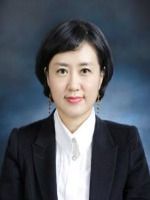 Dr. Un-Sun Chung is an Endowed Associate Professor in Child and Adolescent Psychiatry in Kyungpook National University Hospital (KNUH), Daegu, Korea. She had been graduated Summa Cum Laude from School of Medicine, Kyungpook National University in 1999 and received doctor degree in 2007 at the same school. Finishing residency in psychiatry at KNUH in 2004, she had training in child and adolescent psychiatry in Seoul National University Hospital.
She has been involved in the field of child trauma and abuse since 2006 when she was working as a consultant psychiatrist and director in Deagu Sunflower Center for supporting sexually abused children and mentally disabled people funded by the Ministry of Gender Equality and Family.
She became the director of School Mental Health Research and resources Center (SMHRC), which aims to foster trauma-informed schools by research, education and networking, in 2014. She worked as responsible psychiatric professional by the government after several big disasters in school. She has published over 60 papers and cooperates with several department of government on making new policy for child welfare.