Ruth Gerson, MD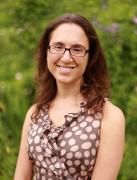 Ruth Gerson, MD, is the Director of the Children's Comprehensive Psychiatric Emergency Program (CCPEP) at Bellevue Hospital Center and a clinical assistant professor in the Department of Child and Adolescent Psychiatry. Dr. Gerson has a particular interest in program development, systems of care and outcomes research with traumatized youth, and social/emotional development.
Dr. Gerson is board certified in both general and child and adolescent psychiatry.
Dr. Gerson received her bachelor of arts in Biochemistry at Harvard University and received her medical degree at Columbia University College of Physicians and Surgeons. She completed her internship and general psychiatry training at the Cambridge Health Alliance-Harvard Medical School residency program where she served administrative chief resident. Dr. Gerson completed her child and adolescent psychiatry training at the Child Study Center at NYULMC and Bellevue Hospital Center. She also completed a public psychiatry fellowship at NYULMC.
Dr. Gerson has authored several articles and has presented nationally at the American Academy of Child and Adolescent Psychiatry (AACAP) and elsewhere on the impact of bullying on child mental health and on improving systems of care for traumatized youth. Dr. Gerson is a member of the AACAP Committee on Child Maltreatment and Violence and the Workgroup on Emergency Child Psychiatry, and has previously served on AACAP's governing council and as co-chair of the Academy's Committee on Medical Students and Residents.
Ruth Gerson, M.D.
Director, Bellevue Hospital Children's Comprehensive Psychiatric Emergency Program
Clinical Assistant Professor, Department of Child and Adolescent Psychiatry, New York University School of Medicine